I love travelling and I love food. I've been to several cities in China and for each city I went, I would try its localfood first. I have to say that in Beijing, you can find almost all those famous local food from
It looks like a ham sandwich, but instead of the bread, weuse this baked pancake (in Mandarin we call it "Shao-Bing") and instead of theham, we use minced donkey meat. And you can ask to add minced green pepper and Chineseparsley in it. Donkey meat may sounds weird to some people, but the taste isnothing particular. I think it tastes like beef, while Caitlin thinks it morelike pork. Come and try it yourself in Beijing, together with some donkey meatsoup J. If you can't eat donkey meat, we have pork sandwiches as well.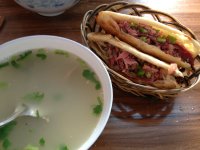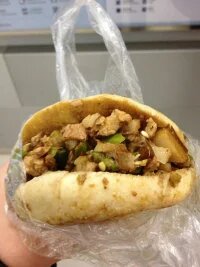 2.      Chinese creep
Well, it's similar to the creep in the malls in Toronto,but instead of fruits and chocolate, we add egg, green onion, Chinese parsley,deep fried crisp and Chinese style salty sauce in it, so it's salty and tastesgood. It's one of the most popular street food in Beijing and most northern cities in China.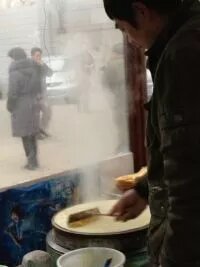 3.      Roasted duck
It's a must-have since you are in Beijing! There are quitea lot of restaurants selling roasted ducks. Usually, the chef will cut theroasted duck into slices in front of your table and it is said that a skilledchef will cut it into around 90 slices. The outer skin is eaten with custersugar and the rest with cucumber, green onion, sauce and wrapped with a thinpancake.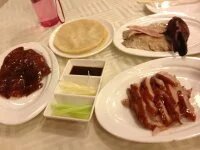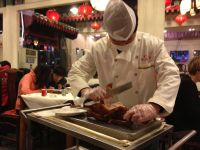 4.      Hawthorn kebab
In Mandarin, we call it "Bing-Tang-Hu-Lu", another typicalstreet snack in northern China, especially in Beijing. Instead of meat chops,we put fresh hawthorns on a thin pick and dip it with melt sugar. The sugarwill turn hard and crispy when getting cold and the hawthorn kebab is sweetoutside and sour inside.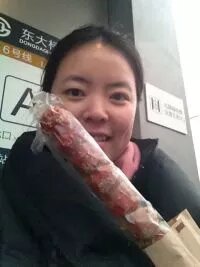 5.      Sushi
You can findJapanese food here in Beijing as well, prices vary. What I recommend is thisrestaurant called "Sushi Express". There is a conveyor belt across the restaurant,and plates of various sushi, sashimi, hand rolls, deserts, beverages and sakeare on the belt moving in front of your table, so you can pick the one youwant. And the price is totally affordable with 6 Yuan for each plate. Usuallythere will be one to two pieces of sushi per plate and two or three pieces of sashimiper plate.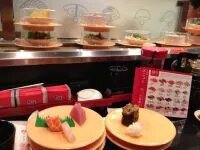 6.      Fast-food
You can find the most popular North America fast-foodrestaurants in Beijing, such as McDonald, KFC, Subway, Pizza Hut, Burger King,Dairy Queen, Starbucks…just name a few. See McChicken combo and Sub of the dayin China below: